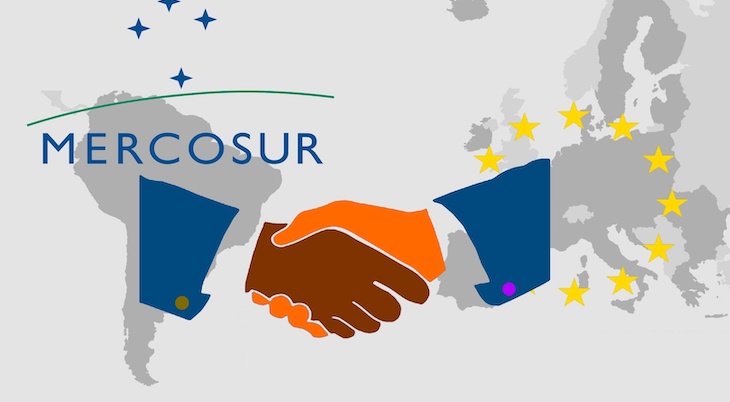 Two years after reaching an agreement in principle, the European Union and four members of Mercosur (Argentina, Brazil, Paraguay and Uruguay) have finalized details of their 2019 agreement. Its government procurement chapter is limited to the central government level but includes plans to seek sub-central government commitments within two years after the agreement enters into force. The agreement provides extensive transitional and special measures for the Mercosur countries (except Uruguay). This post looks at the market access commitments for government procurement and considers how it might affect Brazil's negotiations to join the WTO Government Procurement Agreement (GPA).
The just-released market access annexes for government procurement in the EU-Mercosur agreement show broad coverage of the three branches of the central government (executive, legislative and judicial) in the Mercosur countries. However, that coverage is restricted by the application of high thresholds over lengthy transition periods – 15 years (except 18 years for Paraguay), as well as an extensive array of offsets, price preferences and set-asides. The procurement text closely follows the 2012 GPA revision.
Argentina's threshold for procurement of goods and services starts at 800,000 special drawing rights (SDRs), followed by Brazil at 330,000 SDRs and Uruguay at 212,000 SDRs. All are subject to an obligation to reduce them to 130,000 SDRs over the transition period. Paraguay begins with a threshold of 1 million SDRs, which it will reduce only to 580.000 SDRs. Argentina and Brazil are given five years to reduce their construction threshold from 8 million to 5 million SDRs, which is slightly less than the 5.6 million threshold that Uruguay will apply.
Only Uruguay covers all goods and services (except financial services). Both Argentina and Brazil exclude several categories of goods, list the services that they will open under the agreement and cover works concessions. Paraguay covers several categories of services but excludes all construction services.
The agreement permits the Mercosur countries to apply transitional and special measures. Argentina may impose any type of offset for 15 years, which will begin at 40% of the value of the procurement, and may include the requirement that the winning supplier purchase local goods and services. In addition, it may apply public procurement programs aimed at favoring micro, small and medium enterprises (MSMEs) through price preferences and the right to improve the original tender offer, provided that access to such programs is equally available to EU MSMEs registered in Argentina.
Brazil's defense ministry and several other entities may apply offsets for eight years. In addition, Brazil may apply price preferences up to 10%, as well as set-asides up to 25% for its micro and small enterprises.
Argentina, Brazil and Uruguay agreed to consult with their sub-central government entities with the aim of reaching "a satisfactory level of coverage." The agreement defines that level as commitments of coverage of sub-central governments, which generate at least 65% of the gross domestic product for each country. Paraguay lists 17 sub-central governments. It also excludes a long list of goods from its coverage commitments.
Paraguay may delay application of the procurement chapter for three years after the agreement enters into force. When it does apply the agreement to its procurement, the EU will give it access to its covered procurement. Then, for 18 years after it implements the trade pact, Paraguay may apply price preferences of 20% to products and services of national origin: (i) in products, when labor, raw materials and inputs from Paraguay are equal to or greater than 40%; and ii) in road works, construction, maintenance services, transportation, insurance, consulting and others when the supplier's staff is more than 70% of Paraguayan nationality. It may also apply offsets for 10 years under certain conditions.
The EU offered the Mercosur countries access to three EU institutions and central government entities of its member states. If Argentina, Brazil and Uruguay provide satisfactory coverage of their sub-central entities, the EU will offer a corresponding level of coverage to them. It also commits to open services and construction services on a reciprocal basis.
Borderlex has characterized the Mercosur deal as the EU's "least ambitious agreement on public procurement in a free trade agreement in many years." The agreement is more limited than other recent EU agreements with its omission of utilities, government enterprises and other entities. However, it does follow the EU's recent agreements in which it insisted on sub-central coverage and application of strict reciprocity. The only other agreement in which the EU has accepted comparable transitional and special measures is its trade agreement with Vietnam. 
Brazil is the only Mercosur country to seek membership in the GPA. It submitted its GPA application in May 2020 and an initial market access offer in February 2021. An issue to watch is whether Brazil will seek the same terms relating to transitional thresholds, offsets, price preferences and set-asides in its GPA accession as in the EU trade accord. If so, it could test the GPA members. To date, the GPA parties have approved very limited transitional measures (except for Israel's use of offsets).
Jean Heilman Grier
July 20, 2021
Related Posts
EU-Mercosur Agreement in Principle: Procurement
WTO GPA's Treatment of Developing Countries
EU-Vietnam FTA: Procurement Examined
EU Regional Trade Agreements: A Djaghe Reference Paper