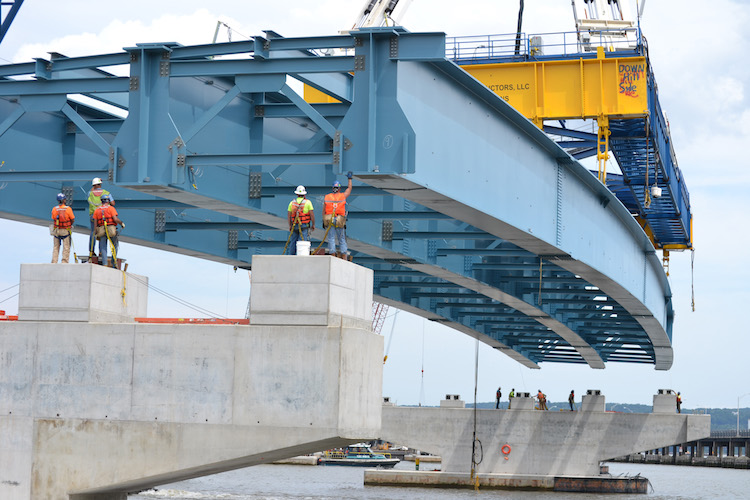 On February 12, President Trump unveiled an infrastructure plan that calls for $1.5 trillion in infrastructure investments. Surprisingly, it does not incorporate the President's strong Buy America rhetoric of  the past year. That absence has drawn criticism and can be expected to lead to efforts to incorporate local content requirements in any infrastructure bill drafted by the Congress. This post reviews the President's proposal and recommends that any Buy America requirement inserted into infrastructure legislation follow the approach of the 2009 stimulus package and ensure compliance with U.S. trade obligations.
In presenting his infrastructure framework, the President called on Congress "to draft and pass the most comprehensive infrastructure bill in our Nation's history". It addresses traditional infrastructure, such as roads, bridges and airports, as well as drinking and wastewater systems, waterways, water resources, energy, rural infrastructure, public lands, veterans' hospitals, and Brownfield and Superfund sites.
Under the Administration's plan, the federal government would contribute $200 billion, with the remainder of the $1.5 trillion picked up by state and local governments and the private sector, including through broader use of public-private partnerships (PPPs). The White House breaks down the $200 billion federal contribution as follows:
$100 billion to create an Incentives Program to spur additional dedicated funds from states, localities and the private sector;
$20 billion for a Transformative Projects Program, focused on state and local projects that may not attract private sector investment;
$20 billion for expansion of infrastructure financing programs;
$10 billion for a new Federal Capital Revolving Fund, aimed at reducing leasing of federal real property in favor of purchases; and
$50 billion for a new Rural Infrastructure Program.
Despite making Buy America a centerpiece of his trade policy, including in executive order that called for strengthening domestic preference laws, the President's infrastructure initiative does not propose imposing Buy America requirements on the projects funded under the plan. This omission has not gone unnoticed. The American Alliance for Manufacturing criticized it for failing to include a Buy America requirement; and Politico's Morning Trade reported that Senator Chuck Schumer "blasted" the proposal for leaving out any such requirements.
Several of Schumer's Senate colleagues, in a January 26th letter, urged the President to protect existing Buy America laws and to "work with Congress to expand these protections and address coverage gaps" in developing his infrastructure proposal. They even sought the incorporation of Buy America requirements in any alternative infrastructure financing such as PPPs.
As Congress develops infrastructure legislation, the controversy that enveloped the Buy America provision in the 2009 stimulus legislation – the American Recovery and Reinvestment Act of 2009 (ARRA) – should serve as a cautionary tale. In 2009, the House of Representatives passed a stimulus package with a Buy America provision that required the use of U.S.-made iron, steel and manufactured goods in all projects funded by the legislation, without regard to whether a project was covered by an international trade agreement. That provision prompted an outcry from U.S. trading partners, who argued that it would violate U.S. commitments under the WTO Government Procurement Agreement (GPA) and free trade agreements (FTA).
The Senate responded by adding a requirement that the Buy America provision be applied consistent with U.S. international obligations. That amendment was adopted as part of the final legislation. As a consequence, when ARRA funds were used in a project subject to a trade agreement, goods from parties to those agreements did not have to meet the local content requirement.
Any Buy America requirement incorporated in infrastructure legislation should, at a minimum, include a similar provision to ensure that the U.S. complies with its international obligations. In addition, to impose local content requirements on infrastructure projects undertaken by PPPs could well undermine the initiative's aim of expanding PPP use.
Jean Heilman Grier
February 13, 2018
Related Posts
Trump's Buy American & Hire American Order
PPPs #5: Treasury Papers on TPP Use in U.S.