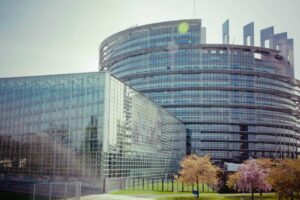 On February 15, the European Parliament approved the Comprehensive Economic and Trade Agreement (CETA) between Canada and the European Union, giving a boost to international trade agreements amid growing threats of protectionism. The approval paves the way for implementation of the Agreement, as soon as Canada completes its ratification.
The European Parliament approved CETA by a large margin, with 408 Members voting for the trade pact, and 254 opposing it. More than 30 Members abstained. That vote completed the approval process for the EU at this stage.
The Canadian House of Commons approved the trade deal on February 14, and it is now pending in the country's Senate, which is expected to give its assent soon. That will clear the path for provisional implementation of most of the Agreement, as early as April. The provisions on investor-state dispute resolution, which have been a major point of contention in Europe, will not be implemented until CETA is approved by the legislatures of the 28 member states and several regional parliaments, a process that could take several years.
After seven years of negotiations, Canada and the EU had signed the trade agreement in October 2016, despite opposition by a Belgium province that nearly derailed the Agreement (as discussed in an earlier post). CETA will eliminate 99% of the tariffs between the two parties and provide the EU with unprecedented access to Canadian procurement.
Now that President Trump has withdrawn the United States from the Trans-Pacific Partnership (TPP), that Agreement's future is uncertain. As a consequence, CETA may take the TPP's place in setting the global standard for trade. The new Agreement could also provide a model for the EU and the United Kingdom in negotiating their post-Brexit trade relationship.
Jean Heilman Grier
February 15, 2017
Related Posts
Brexit: Not Like TPP Withdrawal
EU-Canada Trade Pact: Compromise Allows Signing