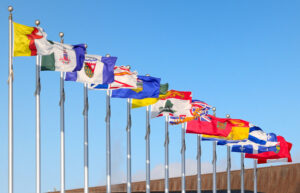 On July 1, 2017, Canada will implement a new agreement, the Canadian Free Trade Agreement (CFTA), which is intended to reduce interprovincial barriers to trade. Fourteen units of government signed the new accord: the Canadian federal government, 10 provinces and three territorial governments. The Agreement provides for comprehensive coverage with numerous exceptions. Its most significant provisions will provide Canadian suppliers with access to provincial procurement that is comparable to access European suppliers will gain when Canada's major trade agreement with the European Union enters into force later this year. This post highlights elements of Canada's new internal trade pact.
The CFTA replaces the 1995 Agreement on Internal Trade (AIT), which entered into force the same year that Canada implemented the North American Free Trade Agreement (NAFTA). In contrast to the AIT, which covers only 11 sectors, the new trade accord applies to almost all economic areas in Canada, subject to numerous exceptions, both general exceptions and party-specific exceptions.
The general exceptions are spread over 14 areas: Aboriginal peoples, national security, taxation, water, divestitures, social services, tobacco control measures, services supplied in the exercise of governmental authority, language, culture, Canadian citizenship and permanent residency, gambling and betting, collective marketing arrangements for agricultural products, and passenger transportation services. The party-specific exceptions for both existing and future measures take up more than a third of the 330-page agreement.
A prime motivation behind the revision of the 1995 agreement was concerns that the Canada-EU Comprehensive Economic and Trade Agreement (CETA) would give EU suppliers better market access than suppliers from neighboring provinces. According to the Canadian government, "the CFTA ensures that Canadian firms secure the same access to Canada's market as that secured by firms from Canada's international trading partners".
The alignment of the CFTA with international agreements is particularly needed in government procurement where Canada agreed under CETA to provide the EU with unprecedented access. Under the new agreement, the provinces made commitments that will help create a level playing field for companies operating across Canada. It also opens procurement among provinces in the energy sector and many energy utilities for the first time under an internal trade pact. The CFTA's government procurement provisions are much more detailed than other substantive areas of the Agreement. The procurement text corresponds closely to the WTO Government Procurement Agreement (GPA), with some GPA details omitted, such as a minimum tendering period.
Other important elements of the new provincial agreement, as evidenced by their length and detail, are provisions for resolving trade disputes. They apply to both government-to-government disputes and person-to-government disputes relating to measures that impair trade, investment or labor mobility within Canada. Those provisions include increased penalties for governments that do not adhere to their commitments. For example, the penalties, which vary based on population, will double for larger jurisdictions from a maximum of Can$5 million under the AIT to a maximum of Can$10 million under the CFTA.
The Agreement also includes labor mobility and environmental protection provisions. They include a requirement that any worker certified for an occupation by a regulatory authority of one jurisdiction must be recognized as qualified for that occupation by all other governments.
The CFTA includes built-in work programs in a number of areas. For example, within six months after it enters into force, the parties will explore the incorporation of rules on financial services. Then, within a year of implementation, they will establish a regulatory reconciliation process to address regulatory differences across jurisdictions that act as a barrier to trade. Canada has pointed to a survey by the Canadian Federation of Independent Business, which found that nearly one in three small businesses identified regulatory differences between provinces as a significant barrier to internal trade.
According to the Canadian government, internal trade represents about one-fifth of its annual GDP, or Can$385 billion, and accounts for almost 40% of provincial and territorial exports.
A subsequent post will consider the implications of the new Canadian agreement for the renegotiation of NAFTA.
Jean Heilman Grier
May 2, 2017
Related Posts
EU & Canada: Preparing to Sign Trade Pact
Major Procurement Gains in Canada-EU Agreement