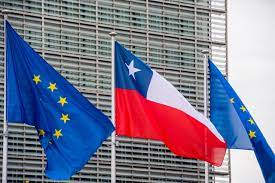 In December 2022, the European Union (EU) concluded negotiations of an upgraded free trade agreement (FTA) with Chile. The EU-Chile Advanced Framework Agreement is the 9th FTA the EU has negotiated since 2017 when it implemented a comprehensive agreement with Canada. Under the upgraded FTA, the EU and Chile exchanged improved access to their government procurement markets for goods, services, works, and works concessions. This post highlights the improvements.
In modernizing their 20-year agreement, Chile and the EU agreed to align its government procurement rules with the WTO Government Procurement Agreement (GPA), even though Chile is not a party to the plurilateral agreement. The improved text requires Chile to publish contract notices online at a single electronic portal for procurement covered by the agreement.
Under the improved FTA, Chile agreed to lower its thresholds for access to its procurement of goods and services. It reduced its threshold for central government entities to 95,000 special drawing rights (SDRs) (from 130,000 SDRs) and for other entities to 220,000 SDRs (from 400,000 SDRs). The EU maintained its higher thresholds of 130,000 SDRs and 400,000 SDRs, respectively. Chile also offered comprehensive coverage of its subcentral entities, covering all municipalities (municipalidades), in contrast to its listing of specific entities in the earlier agreement.
Both parties confirmed coverage of their utilities that operate in ports and airports. They also added coverage of public works concession contracts, which they had not covered previously.
The EU will provide reciprocal access to Chilean suppliers, goods, and services to its public procurement market at the central and subcentral levels. It also offered additional services not covered under the current bilateral agreement.
Similar to other EU FTAs, the modernized EU-Chile Agreement was separated into two parallel legal instruments: An interim FTA covers the trade and investment parts of the agreement that are within the exclusive competence of the EU; and an Advanced Framework Agreement that includes the parts on politics, cooperation, and investment requiring ratification by all EU member states. This separation is based on a 2017 ruling by the European Court of Justice that the EU had exclusive competence over trade and investment market access and investment protection rules, but it had to share authority for investment dispute settlement and portfolio investment with the member states. 
The EU and Chile aim to formally sign the agreement in the fall of 2023 after translations into EU languages and legal scrubbing procedures are completed. The EU will then send it to its member states and the European Parliament for ratification. 
Chile has an extensive network of trade agreements, including 30 FTAs, which provide its entrepreneurs with preferential access to 65 economies. Its FTAs include one with the United States that was signed in 2001. It is also finalizing its ratification of the Comprehensive and Progressive Trans-Pacific Partnership agreement. 
Jean Heilman Grier
January 10, 2023
Related Posts
A New Book on International Procurement
EU: Broad Authority to Conclude Trade Pacts
Major Procurement Gains in Canada-EU Agreement
EU-Japan Trade Pact: Government Procurement
EU-Singapore FTA: Procurement Expanded
UK-EU Trade Agreement: Procurement