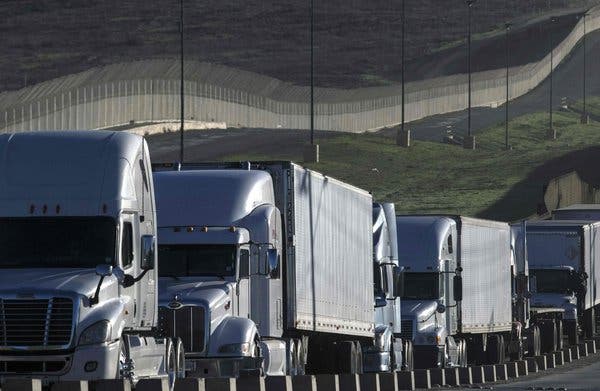 Not content with waging one trade war that may soon encompass all imports from China, President Trump has now embarked on a second that will place a tariff on all imports from Mexico unless it stops migrants from entering the United States. This post looks at the impact of this action on efforts to obtain congressional approval of the U.S.-Mexico-Canada Agreement (USMCA), the president's authority for the new tariffs and the message he is sending to U.S. trading partners.
On May 30th, the president suddenly announced that he would impose a 5% tariff on all imports from Mexico on June 10 "to address the emergency at the Southern Border." The tariff will be ratcheted up in 5% increments each month, beginning on July 1 until it reaches 25% on October 1, unless or until Mexico takes "effective actions" to alleviate "the illegal migration crisis." The president has not provided any criteria for what he would consider effective action.
While the focus of the president's directive was on the immigration issue, he indicated another benefit would be to bring manufacturing back to the U.S., stating if tariffs remain high because Mexico fails to act, "companies located in Mexico may start moving back to the United States to make their products and goods."
The president's announcement came on the same day that his trade representative, along with Canada and Mexico, took the first steps to obtain legislative approval of the USMCA, the centerpiece of Trump's trade policy. Only two weeks earlier, under strong pressure from Congress, the president had finally lifted the tariffs on Mexican (and Canadian) imports of aluminum and steel to remove an obstacle to congressional approval.
The president's latest action drew sharp rebukes from members of Congress. Senator Finance Chair Chuck Grassley called it "a misuse of presidential tariff authority and counter to congressional intent" and if carried out, it "would seriously jeopardize passage of USMCA, a central campaign pledge of President Trump's."
After using Section 232 of the Trade Expansion Act of 1962 to impose tariffs on steel and aluminum and threatening its use for auto imports, the president relied on the International Emergency Economic Powers Act (IEEPA) for his latest tariff action. It provides the President with broad authority when he has declared a national emergency "to deal with any unusual and extraordinary threat . . . to the national security, foreign policy, or economy" of the U.S.

In March, the Congressional Research Service, a legislative branch agency within the Library of Congress, issued a report on IEEPA, examining its origin, evolution and use. IEEPA grants the president "extensive powers to regulate a variety of economic transactions following a declaration of national emergency." It was enacted in 1977 "to rein in the expansive emergency economic powers that it had been delegated to the President under the Trading with the Enemy Act (TWEA)."
Since 1977, presidents have relied on IEEPA in 54 declarations of national emergency. It has served as an integral part of the postwar international sanctions regime.  However, the CRS observed that "recent presidential actions . . . have drawn attention to presidential emergency powers," including IEEPA, which is the one most frequently used.

While no president has used IEEPA to impose tariffs on imports, CRS suggested it was possible citing President Nixon's use in 1971 of TWEA. He declared a state of emergency and placed a 10% ad valorem supplemental duty on all dutiable goods entering the U.S. after he ended the convertibility of the U.S. dollar to gold. CRS observed that "IEEPA's similarity to TWEA, coupled with its relatively frequent use to ban imports and exports, suggests that such an action could happen." But, CRS thought a president may find Section 232 more attractive because it imposes fewer restrictions and reporting requirements than IEEPA.
Trump's imposition of tariffs on Mexico may face legal challenges by the business community. It could also encourage the Congress to advance legislation that is under consideration to curb the president's tariff authority, particularly relating to Section 232.
The Mexican president is sending a high-level delegation to Washington to try to defuse the issue. But it is unclear what measures would be necessary to move the president off his latest tariff ramp.
The president's new action will reinforce concerns with the reliability of the U.S. as a negotiating partner. After making the renegotiation of the North American Free Trade Agreement a centerpiece of his trade agenda, and touting the benefits of its successor, the USMCA, the president appears to discount or ignore the negotiated result as he prepares to impose tariffs that would violate U.S. commitments. How will that affect the European Union and Japan as they prepare for talks with the U.S. or any other country that is contemplating an agreement with the U.S.?
Jean Heilman Grier
June 3, 2019
Related Posts
Trump's Tariff Authority: Curb or Expand?