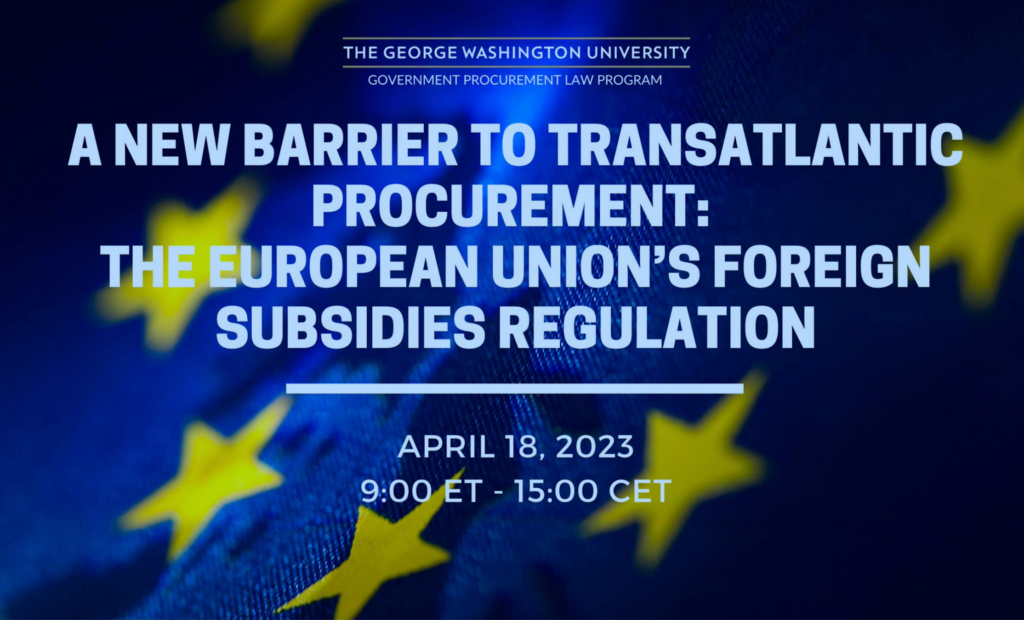 The George Washington University presented a webinar on "A new barrier to transatlantic procurement: the European Union's Foreign Subsidies Regulation on April 18. The Foreign Subsidies Regulation (FSR) entered into force on January 12, 2023, with the aim of addressing distortions caused by foreign subsidies in EU public procurement and concentrations (mergers and acquisitions and joint ventures). It will become fully effective in October 2023. The new FSR will require bidders in EU procurement to disclose subsidies they have received from foreign governments.
The webinar was organized by GWU Law Professor Christopher Yukins to provide an in-depth discussion by European lawyers of the new regulation and the ramifications for bidders from the United States and other non-EU countries. It will require notification of the receipt of foreign financial contributions in procurement with an estimated value of at least €250 million.
The importance of this regulation to the EU is reflected in the speed with which it was adopted. In contrast to the 10-year development of the EU's International Procurement Instrument, the FSR advanced from a 2020 white paper to adoption at the end of 2022.
The webinar also outlined the role of US protectionism in the transatlantic relationship, in particular the Infrastructure Investment and Jobs Act of 2021 and the Inflation Reduction Act of 2022. It also considered how the EU regulation may relate to both the WTO Government Procurement Agreement and subsidies agreement. 
The webinar slides and recording are available here.
Jean Heilman Grier
April 18, 2023
Related Posts
EU Agreement on Foreign Subsidies Regulation
EU Adopts Procurement Reciprocity Regulation
"Buy America" in Infrastructure Act: Trade Agreements
Trade Agreements Ignored in New 'Buy America' Rules