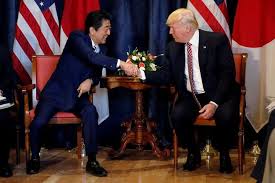 The United States and Japan are preparing to embark on bilateral trade negotiations, which could begin as soon as mid-January 2019. However, the scope of the negotiations remains unclear. The September joint statement announcing the negotiations suggested a limited scope. Neither country has called the prospective agreement a "free trade agreement" (FTA); and the Japanese prime minister has emphasized that it would focus on goods and be "entirely different from the comprehensive FTAs that Japan has negotiated". However, unlike the recent limited amendments of the U.S. FTA with Korea, which did not follow Trade Promotion Authority (TPA) procedures, the Trump administration is complying with TPA for the Japan negotiations, as it would have to in order to negotiate an FTA. This post considers the inclusion of government procurement in the negotiations, focusing in particular on the views of industry.
On October 16, the U.S. Trade Representative (USTR) notified the Congress under TPA that the administration intends to initiate trade negotiations on a U.S.-Japan Trade Agreement, with negotiations to start no earlier than 90 days from the date of the notice. The TPA notice indicates that the administration's "objectives for this negotiation will comply with the specific objectives" set forth in TPA. It also stated that the negotiations with Japan could be pursued "in stages".
Later in October, USTR requested public comments on the proposed agreement, including negotiating objectives, barriers to trade in goods and services, product-specific import or export interests or barriers and "other measures or practices that undermine fair market opportunities for U.S. businesses, workers, farmers, and ranchers that should be addressed in the negotiations". USTR held a public hearing on negotiating objectives on December 10. The next step will be for the administration to issue its negotiating objectives.
In responding to USTR's solicitation of comments, major trade organizations recommended inclusion of government procurement in a comprehensive agreement with Japan. Any procurement provisions in a new agreement would build on existing procurement commitments of the U.S. and Japan, in particular under the WTO Government Procurement Agreement (GPA). Japan also made commitments to the U.S. under bilateral agreements in the late 1980s and early 1990s, covering procurement of computers, satellites and supercomputers, as well as major infrastructure projects. In the 2018 National Trade Barriers report, USTR noted that it "continues to monitor Japan's implementation of these agreements".
In a joint submission, the U.S. Chamber of Commerce and U.S.-Japan Business Council advocated expansion of reciprocal access to U.S. and Japanese procurement markets that go beyond GPA commitments. In their public hearing statement, they pointed to several outcomes, including government procurement, in the recently signed U.S.-Mexico-Canada Agreement (USMCA) that "must not be viewed as precedents for future trade agreements".
The National Foreign Trade Council called the ability of U.S. companies to bid on foreign government contracts "a key export opportunity". It recommended that the agreement "contain a strong procurement chapter" that will help U.S. companies access procurement opportunities in areas where they are "world leaders", such as infrastructure and transportation, information technology equipment, engineering, health equipment and supplies and professional services.
The Coalition of Service Industries (CSI) wants a Japan agreement to "ensure that services providers, and particularly financial institutions, will not be discriminated against in the procurement of services by the government and its related entities". It expressed concern with the exclusion of government procurement in trade agreements, including in financial services chapters (a concern cited by the services advisory committee relating to the USMCA). CSI particularly focused on cloud computing and recommended that the negotiations "include first of its kind measures on implementation and maintenance of Cloud First policies, applicable to all sectors, including financial services". Such an approach would "cement U.S.-Japan leadership in cloud computing" and set "an important precedent for other agreements".
Other comments focused on defensive interests. The Alliance for American Manufacturing argued that the U.S. must "maintain and strengthen strong domestic content procurement preferences for products like armor plate and steel rail products". The Committee to Support U.S. Trade Laws requested the maintenance of reservations from market access obligations for federal-aid infrastructure assistance. The American Apparel and Footwear Association urged a continuation of U.S. policy of complying with the Berry Amendment, which requires all clothing, textiles, and footwear purchased by the Defense Department to be made in the U.S.
If the U.S. and Japan negotiate a comprehensive trade agreement, it should include a strong government procurement chapter, with text comparable to the procurement chapter in the Trans-Pacific Partnership (TPP) or USMCA. However, it should not follow the USMCA's exclusion of one party (Canada) and mere repetition of existing market access commitments of the other party (Mexico).
At a minimum, an agreement with Japan should include the new procurement that Japan offered under the TPP and, to the extent possible, procurement that Japan will provide the European Union in their soon-to-be-ratified bilateral agreement.  In the TPP, Japan had covered several more entities than under the GPA, but far less than under its EU agreement. Japan will provide the EU with access to the procurement of all local independent administrative agencies (51 universities and colleges, 25 hospitals or medical centers and 11 technical or industrial research centers), as well as 48 "core cities", which have a population of approximately 300,000.
In its agreement with the EU, Japan will also withdraw its controversial GPA exclusion of procurement of goods and services related to the operational safety of transportation for sub-central entities and five railway-related entities. It also accepted detailed requirements related to business evaluations under its Construction Business Act. Japan application of its operational safety provision in the GPA has long been a concern of U.S. firms, as has their limited access to Japan's construction sector. Incorporating provisions such as these in an agreement with Japan could benefit U.S. firms.
Jean Heilman Grier
December 11, 2018
Related Posts
EU-Japan FTA: Examining Procurement Commitments
TPP Procurement: Modest Improvements in Existing Commitments
US-Korea FTA Modifications Examined
USMCA Procurement: Advisory Committee Views