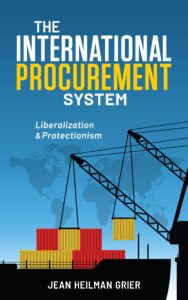 Newly published by Dalston Press
The International Procurement System: Liberalization & Protectionism
by Jean Heilman Grier
International Procurement.
The agreements that support it.
The institutions that sustain it.
Its strengths. Its challenges. Its prospects for the future.
Available in paperback and Kindle editions from Amazon
About The International Procurement System:
This new book unpacks the system that has been created over the past 40 years for the purpose of expanding access to government procurement markets. It examines and explains:
The plurilateral WTO Government Procurement Agreement (GPA)
Bilateral and regional procurement pacts
Unilateral government actions on procurement
Policies that liberalize procurement markets
Protectionist approaches to procurement, including those of Donald Trump and Joe Biden
The current scope of the international procurement system
The prospects for its growth
Expanding the ideas that have been discussed in this blog with new material, The International Procurement System probes the twin forces that continue to shape government procurement markets: liberalization and protectionism.
The book begins with the rejection of multilateral disciplines on government procurement and the resort to plurilateral agreements to open government procurement markets. It examines the GPA, as the center of this system, and considers its scope, its membership, and its limitations.
Moving from plurilateral agreements, the book explores bilateral and regional agreements that have extended the international procurement system. It focuses on those negotiated by the United States and the European Union, as well as the Comprehensive and Progressive Trans-Pacific Partnership (CPTPP).
The book delves into how the US has opened its procurement markets while simultaneously complying with a bevy of 'Buy American' requirements. The book then chronicles how the US began to pivot away from liberalization to protectionism under President Trump's 'America First' policy and President Biden's 'Made in America' policy.
In assessing the current state of international procurement, the book looks at the EU's ambitious trade negotiating agenda, the US retreat from bilateral trade agreements, and new regional trade agreements, with the CPTPP as the most prominent example.
The book concludes by considering the prospects for the growth and development of the international procurement system. It looks at the possibility that unilateral measures could undermine the system, that China might remain outside international procurement disciplines, and that the current set of agreements and disciplines may prove unable to address new and emerging issues in international procurement.
The International Procurement System is a comprehensive analysis of the state of trade in goods and services to governments and a thoughtful assessment of the future of that trade.
Jean Heilman Grier
November 10, 2022