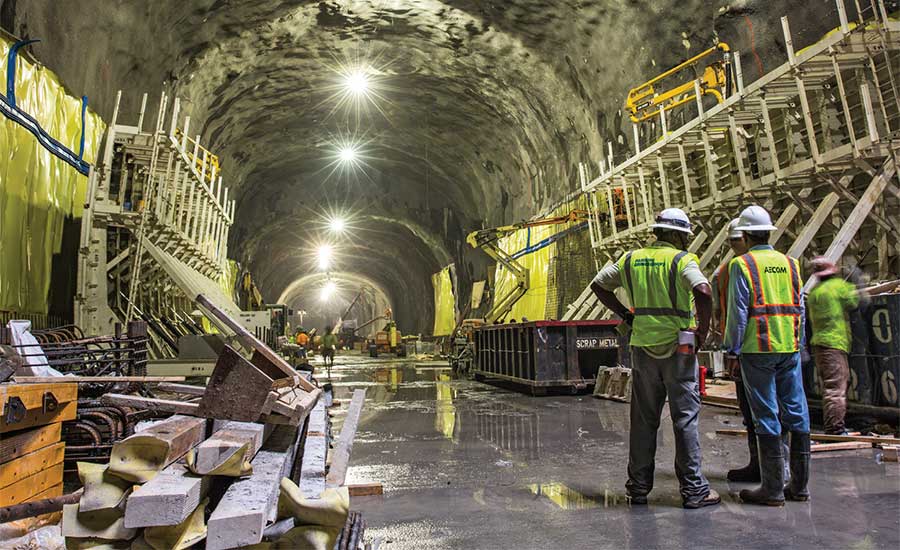 Four weeks before the implementation of a broad "Buy America" requirement for infrastructure projects, the White House issued guidance to federal agencies. The "Buy America" provision will apply to all infrastructure projects that receive federal funds, beginning on May 14, 2022. This post highlights the guidance and waivers available, including for compliance with international obligations.
The Infrastructure Investment and Jobs Act (Act), enacted by Congress in November 2021, includes a far-reaching "Buy America" requirement that mandates that no federal funds may be used on any infrastructure project undertaken by a non-federal entity "unless all of the iron, steel, manufactured products, and construction materials used in the project are produced in the United States". The term "non-federal entity" includes states, local governments, territories, Indian tribes, Institutions of Higher Education, and nonprofit organizations.
To guide federal agencies in their implementation of this domestic preference requirement, the Office of Management and Budget (OMB), on April 18, issued its initial guidance on the application of the "Buy America" preference and the process for waiving it. The preference applies to any federal financial assistance program under which an award may be issued for an infrastructure project, "regardless of whether infrastructure is the primary purpose of the award". However, it also pointed out when an award is made that includes a project covered by the Act, the "Buy America" preference will not apply to non-infrastructure spending under the award.
The guidance directed agencies to ensure that their programs incorporate a "Buy America" preference "in the terms and conditions of each award with an infrastructure project". The infrastructure act requires the following "Buy America" preference:
(i) All iron and steel used in the project are produced in the U.S. This means all manufacturing processes, from the initial melting stage through the application of coatings, occurred in the U.S.
(ii) All manufactured products used in the project are produced in the U.S. That requires the product to be manufactured in the U.S. and the cost of its U.S.-produced components to be greater than 55% of the total cost of all its components (unless another domestic content standard applies).
(iii) All construction materials are manufactured in the U.S., which requires all manufacturing processes to take place in the U.S.
OMB emphasized that the domestic preference requirement applies to deficient programs. The Act defines an infrastructure program as deficient if: (i) it does not require all the iron, steel, manufactured products, and construction materials used in the project to be produced in the U.S.; (ii) it does not issue waivers and written justifications as specified in the law; or (iii) it is subject to a waiver of general applicability. Agencies must bring their deficient programs into compliance by May 14. 
The Department of Transportation, one of the leading agencies in applying domestic content preference requirements in its funding of infrastructure projects, provides an example of the breadth of the programs that will need to be brought into compliance. It reported in January that none of its extensive list of programs was fully consistent with the Act's requirements. Its deficiencies included that its programs did not specifically cover construction materials and most of its programs had general applicability waivers. 
OMB urged agencies to interpret "infrastructure" broadly and cited, as an example, "structures, facilities, and equipment that generate, transport, and distribute energy – including electric vehicle (EV) charging". It offered as a guide to determining if a particular construction project constitutes "infrastructure," whether the project will serve a public function, including whether it is publicly owned and operated, privately operated on behalf of the public, or is a place of public accommodation, in contrast to a project that is privately owned and not open to the public.
The Act provides for the application of the three types of waivers typically available for "Buy America" requirements: inconsistency with the public interest, nonavailability of domestic products, and unreasonable cost of domestic products. The guidance provides detailed instructions relating to waivers. 
Before issuing a waiver, OMB directs agencies to post on the agency's website a detailed written explanation for the proposed waiver and to provide at least 15 days for public comments on the proposal (30 days for general applicability waivers). Agencies must also post the waiver on the administration's waiver website, https://www.madeinamerica.gov, the website the administration established last fall. After the public comment period concludes, agencies must submit the proposed waiver to the Made in America office for review and a determination of whether it is consistent with applicable law and policy.
OMB recognizes that waivers may be needed "in limited situations where there is an urgent need in an unforeseen and exigent circumstance". Such waivers can be issued without public comment and OMB review. It also suggests that agencies may issue "a limited number of general applicability public interest waivers in the interest of efficiency and to ease burdens for recipients". Such waivers could be used for purchases below a de minimis threshold (such as 5% of project costs up to a maximum of $1,000,000), small grants below the simplified acquisition threshold ($250,000), minor components (comprising no more than 5% of the total material cost of an otherwise domestically produced iron and steel product), a brief adjustment period, and international trade obligations.
Regarding a waiver for international trade obligations, the guidance states that if a state has a procurement obligation under the WTO Government Procurement Agreement or any other trade agreement, "a waiver of a Made in America condition to ensure compliance with such obligations may be in the public interest". Both the Act and the guidance provide that the "Buy America" requirement must be applied in a manner consistent with international obligations. 
Finally, OMB provided preliminary and non-binding guidance to assist agencies in determining which materials are construction materials, as required by the Act. OMB will issue final standards on construction materials. It also indicated that it is seeking additional stakeholder input before issuing further guidance on initial manufacturing processes for construction.
Jean Heilman Grier
April 20, 2022
Related Posts
"Buy America" in Infrastructure Act: Trade Agreements
Senate Infrastructure Package: "Buy America"
New "Made in America" Waiver Website