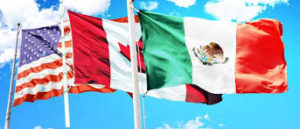 When President Trump entered office four months ago, he was expected to take immediate steps to renegotiate the North American Free Trade Agreement (NAFTA), or even withdraw from it, as he did with the Trans-Pacific Partnership. However, the Administration was forced to delay formal action on NAFTA for four months. On May 18, the newly installed U.S. Trade Representative (USTR), Robert Lighthizer, was finally able to notify the Congress of the President's intention to renegotiate NAFTA. That notice triggers a 90-day congressional consultation period, after which the Administration can begin negotiations with Canada and Mexico. This post considers the objectives and timing of negotiations to modernize NAFTA.
The delay in advancing the NAFTA negotiations was the result of Congress' insistence that the Administration comply with the requirements of the Bipartisan Congressional Trade Priorities and Accountability Act of 2015, often referred to as Trade Promotion Authority (TPA), as well as the prolonged confirmation process for USTR Lighthizer. The additional time has enabled a broad array of interested parties, including from the Congress, industry, agriculture, business community, labor and environmental groups and many others to weigh in with their priorities and views of what should – and what should not – be changed in NAFTA. A prevailing view seems to be that the renegotiation should "do no harm": it should modernize the 23-year old Agreement, but it should not take way what is working. There are of course conflicting views on its merits and deficiencies.
For example on NAFTA's rules of origin, which the Administration has long indicated it wants to change, labor groups are seeking tougher rules for auto trade. Under NAFTA, 62.5% of an automobile imported into the United States from Mexico or Canada must be "made in North America" to qualify for duty-free treatment. The AFL-CIO wants to upgrade that rule to eliminate loopholes, contending that it allows nearly 40% of a car to be made in China or other countries. U.S. automakers oppose changes to the auto origin rules, according to Inside U.S. Trade.
USTR's NAFTA notice set out the Administration's objectives only in broad terms, emphasizing the need to modernize the Agreement, such as adding new provisions to address digital trade, intellectual property rights, regulatory practices, state-owned enterprises, services, customs procedures, sanitary and phytosanitary measures, labor, environment and small and medium enterprises. It also noted that it wants to improve implementation and enforcement of NAFTA commitments.
As for specific objectives, the formal notice did not include the more detailed objectives that were set out in the draft notice the Administration circulated to Congress at the end of March. That notice described objectives that were generally in line with TPA requirements.
TPA requires the Administration to specify the objectives of the negotiations at least 30 days before negotiations begin. Toward that end, on May 23, USTR solicited public comments on the specific objectives for modernizing NAFTA in a Federal Register notice. It invited written comments (by June 12) and participation in a public hearing, scheduled for June 27. In that notice, USTR also stated that it will comply with the specific objectives set forth by Congress in TPA.
The Administration has not made a firm commitment as to whether it will negotiate separate bilateral agreements with Canada and Mexico or maintain NAFTA's trilateral structure. It plans to start out with trilateral negotiations, but they could end in bilateral agreements. Mexico and Canada have indicated that they want to confine the negotiations to a single agreement.
USTR's formal notification allows it to begin NAFTA negotiations in mid-August. The Administration's aim of wrapping up negotiations by the end of this year is very ambitious. The broader and deeper the changes that the U.S. seeks in the negotiations, the longer they will likely take. Aiming for an earlier end date might signal the U.S. intention to seek modifications – but not a complete re-write – of the Agreement.
Jean Heilman Grier
May 24, 2017
Related Posts
Renegotiating NAFTA: Investor-State Disputes
Trump Administration Prepares for NAFTA Negotiations