ITEM OF NOTE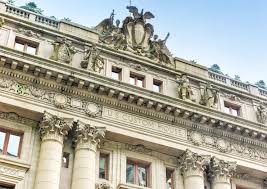 U.S. lawmakers have introduced tariff legislation with opposite purposes: one bill would give the president almost unlimited authority to increase tariffs and two others would curtail the president's authority to impose tariffs using national security as the justification. This post reviews the legislative proposals.
President Trump argued for greater tariff authority in his state of the union message on February 5. Legislation to accomplish that aim has been introduced by Congressman Sean Duffy (R-Wis). The Reciprocal Trade Act would expand the president's already broad tariff authority by authorizing him to raise U.S. tariffs on a particular good to match a foreign tariff with few constraints. The legislation would apply where foreign countries impose "significantly higher" duties than the U.S. rates or a foreign non-tariff barrier imposes "significantly higher burdens" than burdens of U.S. non-tariff barriers on a particular good.
The White House wants this legislation for leverage to negotiate reductions in foreign tariffs. The proposed legislation provides no consideration for U.S. trade obligations under the World Trade Organization or free trade agreements to not exceed negotiated tariff levels. Nor does it provide a role for the U.S. Trade Representative other than as an advisor on the "effective rate of duty" imposed by a non-tariff barrier. Before taking action, the president would have to provide notice to, and consult with, congressional trade committees, seek advice from trade advisory committees and allow the public to comment on the proposed action. But, they would not stop the president from raising tariffs.
Business groups and lawmakers are expressing strong opposition to that legislation and are calling instead for a curb on the president' tariff authority. They are concerned that the president has misused his authority under Section 232 of the Trade Expansion Act of 1962, which allows tariffs to be imposed when imports threaten the national security. The president's use of that law to place tariffs on steel and aluminum imports, including on the U.S.'s closest trading partners, have particularly drawn their ire. The president's threats to use that authority to impose tariffs on autos only heightens their concerns.
Two legislative proposals aimed at curbing the president's Section 232 tariff authority warrant particular attention. They are receiving support from both parties and in both houses of Congress, as well as the business community.
On February 6, Senator Rob Portman (R, Ohio), a former U.S. Trade Representative, along with colleagues from both sides of the aisle, introduced the Trade Security Act of 2019, to reform Section 232. (A companion bill was also introduced in the House). It would bifurcate the existing Section 232 process, transferring authority for the investigation phase from the Commerce Department to the Department of Defense (DoD) and making Commerce the lead in the remedy phase.
The Portman legislation would also increase the role of Congress in the Section 232 process by expanding its authority to disapprove and block a Section 232 action for any product, not just oil imports, as provided under current law. It would only apply to future Section 232 actions and would not affect the tariffs on steel and aluminum imports.
A broader piece of legislation that would also reform the Section 232 process is the Bicameral Congressional Trade Authority Act of 2019, which was introduced in January in both houses of Congress by Sen. Pat Toomey (R-PA) and others. It would limit imports subject to Section 232 actions to goods with application to "military equipment, energy resources, or critical infrastructure". To be actionable, imports would have to constitute "a substantial cause of a threat to impair the national security".
Like the Portman legislation, it would transfer authority for Section 232 investigations to the Defense Department and assign the Commerce Department the preparation of recommendations. It goes further in requiring congressional approval before any presidential action under Section 232 could become effective. If Congress did not approve such proposed action within 60 days, the president's proposed action could not be implemented.
The Bicameral Act legislation would also have retroactive effect; unless Congress, within 75 days of its enactment, passed an approval resolution of tariffs and quotas imposed within the past four years, they would be repealed. The legislation would also transfer the administration of a product exclusion process from the Department of Commerce to the International Trade Commission, 
Senate Finance Committee Chairman Chuck Grassley has indicated his interest in moving legislation this year that would rein in the president's use of Section 232. Legislation that curtails the president's authority is far more likely than proposals to expand it.
Jean Heilman Grier
February 7,2019
Related Posts
Presidential Authority to Raise Tariffs
Trump's 232 Choice: Tariffs or Quotas?
National Security Tariffs: Cars Next?
Trump Trade Policy: Section 301