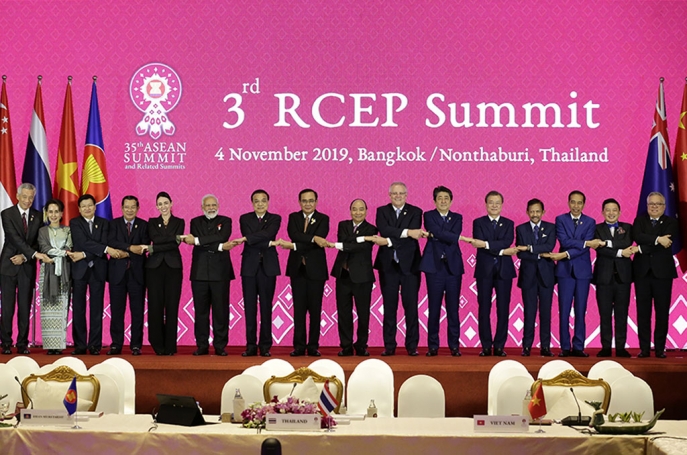 In November, the leaders of 15 of the 16 countries participating in the negotiation of the Regional Comprehensive Economic Partnership (RCEP) announced that they had concluded negotiations on the text of the trade agreement and "essentially all their market access issues." They plan to sign it in 2020, after legal scrubbing. The only country that participated in the negotiations but balked at their conclusion was India. This post looks at the scope of the agreement, including its inclusion of government procurement, as well as India's concerns with it, its current negotiations with the United States and whether it is making the same mistake as the U.S. in pulling out of a major regional agreement.
In a joint statement, the 15 RCEP leaders welcomed the outcome of the negotiations but noted that "India has significant outstanding issues." They pledged to work to resolve its concerns, recognizing that "India's final decision will depend on satisfactory resolution of these issues." 
In 2013, RCEP negotiations commenced between the 10 members of the Association of Southeast Asian Nations (ASEAN), comprised of Brunei, Cambodia, Indonesia, LAO PDR, Malaysia, Myanmar, Philippines, Singapore, Thailand and Vietnam, and six countries with which ASEAN has free trade agreements (FTAs). The "plus six" group included Australia, China, India, Japan, Korea and New Zealand.
According to a Reuters report, RCEP is not considered to be the same "high quality" agreement as the Comprehensive and Progressive Trans-Pacific Partnership (CPTPP). Since both are major regional agreements based in Asia, they are seen by some as in competition, even though seven RCEP participants are also CPTPP signatories: Australia, Brunei, Japan, Malaysia, New Zealand, Singapore and Vietnam.
The U.S. had championed the CPTPP (when it was still the Trans-Pacific Partnership) as a means of setting international trade rules in the Asia-Pacific region. That ended when President Trump unceremoniously pulled the U.S. out of it at the beginning of his term, in favor of bilateral agreements. The 11-remaining participants forged ahead with the CPTPP and implemented it a year ago (December 2018). 
The 20 chapters that comprise RCEP are: Initial Provisions and General Definitions; Trade in Goods; Rules of Origin (including Annex on Product Specific Rules); Customs Procedures and Trade Facilitation; Sanitary and Phytosanitary Measures; Standards, Technical Regulations and Conformity Assessment Procedures; Trade Remedies; Trade in Services (including Annexes on Financial Services, Telecommunication Services and Professional Services); Movement of Natural Persons; Investment; Intellectual Property; Electronic Commerce; Competition; Small and Medium Enterprises; Economic and Technical Cooperation; Government Procurement; General Provisions and Exceptions; Institutional Provisions; Dispute Settlement; and Final Provisions.
When the RCEP negotiations were launched in 2013, they did not include government procurement. However, a chapter on procurement was added in 2017, albeit with narrower aims than many FTAs. Its focus is "on provisions to promote transparency of laws, regulations and procedures, and develop cooperation among Participating Countries regarding [government procurement]." In contrast to the CPTPP, it does not include market access commitments. Under the ASEAN approach to agreements, they could be negotiated later.
In refusing to join the other 15 participants in concluding RCEP negotiations, India expressed a variety of concerns, especially a flood of cheap goods from China and the agreement's negative impact on farmers, the dairy sector and small businesses. According to reporting by the Indian press, issues for India "included major trade deficits with all the countries in RCEP, lack of assurances on market access, and RCEP negotiators' insistence on keeping 2014 as the base year for tariff reductions." As an apparent alternative to RCEP, India is looking at bilateral trade agreements with Europe and the U.S. and reviewing its FTAs with Japan, Korea and ASEAN.
The U.S. and India are already engaged in trade negotiations, in which India is seeking restoration of its benefits under the U.S. Generalized System of Preferences (GSP), which the U.S. withdrew in June. According to Inside U.S. Trade, the U.S. wants to tie the restoration of India's GSP benefits to "reciprocal Indian market-access concessions," essentially a "dollar-for-dollar" match. In order to tally up market access benefits for the U.S., India is reportedly considering lowering tariffs on goods in which the U.S., but not China, is competitive.
The overarching question is whether India, in pulling out of RCEP, is making the same mistake that the U.S. made in withdrawing from the TPP in favor of bilateral agreements. To date, the U.S. does not have much to show for its bilateral approach: minor revisions of an FTA with Korea, a mini-deal with Japan and the U.S.-Mexico-Canada Agreement, which is a modest replacement of the North American Free Trade Agreement.
Jean Heilman Grier
December 4, 2019
Related Posts
Government procurement – key element in TPP; Missed opportunity in RCEP?
Developing Country Preferences: Trade Tool?