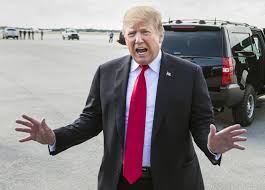 Just when President Trump seemed on the brink of concluding a comprehensive trade agreement with China, the talks fell apart on May 10, and he responded with more tariffs. In light of the set-back, this post considers how Trump's approach to trade negotiations has fared over the past two years. It also looks at the president's escalating use of tariffs.
When President Trump pulled the United States out of the Trans-Pacific Partnership (TPP) agreement on his third day in office in 2017, he emphasized the need to negotiate trade deals on a bilateral basis. But he has little to show with that approach. His team negotiated revisions of the U.S. free trade agreement (FTA) with Korea, but the amendments were so modest that they did not need congressional approval.
The administration negotiated and signed a revision of the North American Free Trade Agreement (NAFTA), heralding the resulting U.S.-Mexico-Canada Agreement (USMCA) as "a 21st century, high-standard agreement" that would be a model for future agreements. However, the International Trade Commission found its economic impact to be only moderate, in part because NAFTA eliminated most tariffs. In some areas, such as procurement and investor dispute settlement, the new agreement is NAFTA-minus. This centerpiece of President Trump's trade agenda is facing resistance in Congress. Democratic members of the House of Representatives want revisions of the Agreement, in particular with regard to enforcement, biologics, environment and labor provisions.
Canada and Mexico, along with Republicans and Democrats in both houses, are insisting that the president remove the steel and aluminum tariffs imposed on imports from the NAFTA partners before the USMCA can be approved. Also, the administration has not yet submitted the final text of the deal and statement of administrative action, which must be sent 30 days before it can submit draft implementing legislation. The longer the USMCA languishes, the more difficult it will be to pass before the 2020 election.
In October 2018, the U.S. Trade Representative (USTR) notified Congress of the administration's intent to negotiate separate trade agreements with the European Union, Japan and the United Kingdom, in accordance with Trade Promotion Authority. It subsequently published negotiating objectives, which closely follow its objectives for renegotiating NAFTA.
The administration's plans to negotiate agreements with the EU and Japan face uncertain futures. The U.S. is seeking comprehensive agreements, even though both the EU and Japan are looking at narrower negotiations, consistent with their preliminary agreements in July and September 2018, respectively, to enter talks. The EU's negotiating mandates are limited to industrial tariffs and conformity assessment. As the U.S. and EU try to work out the scope of the negotiations, their divergent views on agriculture could derail the negotiations: the U.S. insists it must be included; the EU is adamantly opposed. 
The administration wants early results on an agreement with Japan to include agriculture in order to recover benefits it lost when the president pulled the U.S. out of the TPP and Japan and the other TPP signatories implemented the renamed Comprehensive and Progressive Trans-Pacific Partnership (CPTPP). The CPTPP and the EU-Japan trade agreement place U.S. farmers and ranchers at a comparative disadvantage. It is unclear whether Japan would be able to undertake the commitments sought by the U.S. before its upper house elections in July. Japan is particularly interested in avoiding additional tariffs on its auto exports.
Of the proposed negotiations, the most likely to result in a comprehensive agreement is with the UK but that will depend on when (or even if) it exits the EU and whether their future trade relationship permits it to negotiate its own trade deals. If it stays in the EU customs union, it would not be able to negotiate agreements, at least on goods. Its initial Brexit deadline of March 29, 2019 has been extended to October 31, 2019.

With little progress on his bilateral negotiating agenda, President Trump is actively exercising his favorite unilateral tool — tariffs. He has raised tariffs under three little used statutes to protect various U.S. industries, as well as bring U.S. trading partners to the negotiating table. His application began with safeguard tariffs on imported large residential washing machines and imported solar cells and modules to protect U.S. industries, based on an injury finding by the U.S. International Trade Commission. 
Then came tariffs under Section 232 of the Trade Expansion Act of 1962. In March 2018, the president imposed tariffs on imports of steel (25%) and aluminum (10%) as threats to national security. The only exceptions were countries that agreed to quotas or other restrictions. The president tied a permanent exclusion from the tariffs for Canada and Mexico to renegotiations of NAFTA; yet they continue.
Next up is presidential action on the results of an investigation by the Commerce Department into whether import of autos and auto parts threaten the national security. That investigation has drawn strong opposition from many quarters, including the auto industry, Congress and trading partners, questioning the premise of the investigation. The president is expected to delay action for six months, during which he would try to negotiate agreements with Japan and the EU. He reportedly plans to subject their auto imports to tariffs at the end of that period unless they agree to limit them.  
Two other 232 investigations are wending their way through the executive branch: uranium, on which the Commerce Department submitted its report in April 2019, and titanium, launched in March 2019. In response to the president's controversial and unprecedented use of Section 232, bipartisan legislation that would curb its use is being considered in both houses of Congress.
USTR's investigation of China's trade practices relating to intellectual property rights and forced technology transfer under Section 301 of the Trade Act of 1974 provided authority for the president to impose tariffs on China. It garnered strong support as it was addressing long-standing concerns of U.S. industry. However, the president's imposition of tariffs on Chinese imports has been less popular.
The president began imposing tariffs on Chinese imports in July 2018. First, there were 25% tariffs on $50 billion of Chinese imports, based on the administration's estimate of the annual harm to the U.S. economy due to China's trade practices in the 301 investigation. When China retaliated, the president levied a second set of 10% tariffs on $200 billion worth of Chinese imports; he boosted that tariff rate to 25% on May 10 when talks broke down. For the fourth tranche of tariffs, the president has ordered USTR to prepare 25% tariffs on another $300 billion of Chinese imports, covering virtually all imports from China.
China announced on May 13 that it would retaliate against the latest U.S. tariffs. According to Inside U.S. Trade, China will subject nearly 2,500 U.S. products to a 25% tariff, 1,000 products to a 20% tariffs and just under 1000 products to a 10% tariff, and retain a 5% tariff on 600 products. U.S. firms may also face less obvious retaliation such as more onerous licensing and regulatory requirements. While White House officials have indicated that talks with China will continue and that a meeting between the presidents could be set for late June, prospects for an agreement are uncertain.
Key questions in the months leading up to the 2020 election include: Will the president implement a new agreement that replaces NAFTA? Will he reach a comprehensive, enforceable agreement with China that addresses structural issues? Will he be able to negotiate new agreements with Japan and EU that replace some of the benefits lost with his withdrawal from TPP?
Jean Heilman Grier
May 16, 2019
Related Posts
USMCA – Modernized NAFTA: Procurement
USMCA Investor Dispute Settlement: NAFTA Minus
Trump's 232 Choice: Tariffs or Quotas
National Security Tariffs: Cars Next?